WATCH: Rat In The Subway Car!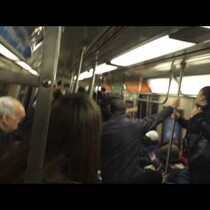 Posted April 9th, 2014 @ 3:37pm
I could be a poser and tell you that this wouldn't bother me but let's be honest, I'd be pushing old ladies off the seats to get up there. That doesn't even factor in my squeals of horror when the little critter scurries by.
No. Thank. You!